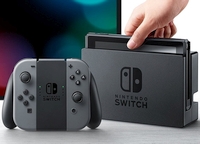 2017 was an absolutely incredible year for video games, and after helping put together the "Golden Pixel Awards" at Warp Zoned, I thought I'd share also some of my favorites from the past year right here.
Some of the picks, like The Legend of Zelda: Breath of the Wild and Super Mario Odyssey, won't be too surprising, but maybe some of them will…
Cuphead
With a visual style inspired by 1930s cartoons and a side-scrolling style that was heavily based on Contra III and Contra: Hard Corps, I often felt like Cuphead was being created just for me. But with two million in sales (and counting), it looks like the entire world has fallen in love with Studio MDHR's debut. And with good reason… each of the game's encounters is fiendishly well-designed. Cuphead isn't just for me, but I can't think of a better game I played all year.
Injustice 2
NetherRealm Studios brought back a bigger and bolder Injustice universe in 2017 with the release of Injustice 2. Like a lot of sequels, Batman and Superman put aside their differences to fight an even bigger threat, but the one-on-one fighting feels much-improved over its predecessor and the developer wasn't afraid to take the storyline to weird new places. I even loved the randomly-generated Gear system. Earning a new piece for my favorite fighters was always exciting.
The Legend of Zelda: Breath of the Wild
What more can you say about The Legend of Zelda: Breath of the Wild? Link's latest adventure is a dramatic reboot of the franchise, as well as the entire genre of open world games. But Breath of the Wild is also ridiculously inventive (some of the Shrines are downright diabolical) and always fun. The fact that a game this huge can go anywhere thanks to the Switch's portablility is just icing on the cake. We'll be talking about Breath of the Wild for years to come, but for now, all you really need to say is that it's far and away one of the best games of 2017.
Mario Kart 8 Deluxe
Mario Kart 8 Deluxe offers all of the same options as its original Wii U incarnation from 2014. Recognizing that many players who purchase Deluxe also owned it on the Wii U, Nintendo has unlocked all characters and courses from the get-go, as well as the 200cc Class and Mirror Mode. All the DLC content, even the Mercedes Benz Pack, is also included at the start, and Nintendo added more than a dozen new kart parts and five new characters (Splatoon's Inklings, King Boo, Dry Bones, and Bowser Jr.). But all of this is just a prelude to the return of Battle Mode. Yes, Mario Kart 8 technically had a Battle Mode, but the jousting-style minigame was a huge disappointment, and I'm still baffled as to why Nintendo decided to do that to one of the franchise's signature features. Thankfully, the Battle Mode in Mario Kart 8 Deluxe erases that horrible memory with multiple match types, all of which are exciting in their own way.
Shovel Knight: Specter of Torment
When it comes to launch games for the Nintendo Switch, I can think of no higher praise for Shovel Knight: Specter of Torment than by admitting that it consistently pulled me away from The Legend of Zelda: Breath of the Wild after I purchased the console. It is a tremendous platformer that'll be appreciated by fans of the franchise, as well as players looking for a new experience akin to the original Ninja Gaiden trilogy. The game's many elements all come together to create a fast-paced platformer that feels as different from Shovel Knight: Plague of Shadows as that game did from the original Shovel Knight.
Splatoon 2
If you're looking for something groundbreaking or revolutionary from Splatoon 2, you should probably look elsewhere. But what the team-based shooter lacked in originality, it made up for it by providing another perfect splash of Nintendo's unique brand of multiplayer mayhem. If you were a fan of the original Splatoon, the sequel should be one of your first stops if you've purchased a Switch.
Super Mario Odyssey
It's been a long time since Nintendo gave the world a free-roaming 3D Mario adventure. Thankfully, Super Mario Odyssey picked up right where (the legendary) Super Mario 64 and (the underappreciated) Super Mario Sunshine left off. Add in Mario's new pal, Cappy, and Odyssey becomes one for the ages. And once you hear it, you'll never be able to get "Jump Up Superstar" out of your head.
Special Mention: Nintendo Switch
The Nintendo Switch was the first console/handheld hybrid… for this reason alone, it's complete dominance of the conversation in 2017 should be obvious. But the platform is also now home to an absolutely stellar library of games, and it's only been available on the market for less than a year. It doesn't have the horsepower of the PS4 Pro or Xbox One X, but Nintendo's newest console was pretty much the most exciting place to play games in 2017.
Special Mention: Blood, Sweat, and Pixels by Jason Schreier
Leo Tolstoy once rather famously wrote that "happy families are all alike," but that "every unhappy family is unhappy in its own way." If you think of game developers as families, this quote could just as easily apply to all the major players in Jason Schreier's Blood, Sweat, and Pixels. Disaster lurks around every corner… whether you're a solo developer working in your bedroom or a multibillion dollar company operating at the top of the industry. And Schreier was able to capture it all. It's a fascinating look behind the development process of games like Stardew Valley, Destiny 2, and Diablo III. And it even gives readers a peek at Star Wars 1313, a game that'll cruelly never be. At least we got to read all about it.