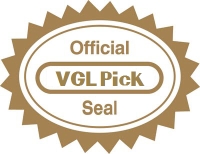 You'd need the combined speed of The Flash and Quicksilver to dig through all the video games that were showcased at this year's San Diego Comic-Con.
But a number of new games were also released in the last four weeks, so if you missed any Video Game Librarian Pick of the Week during the month of July, I've collected them below.
Week of July 4, 2016
The Video Game Librarian Pick of the Week was Lego Star Wars: The Force Awakens (3DS, PC, PS3, PS4, Vita, Wii U, Xbox 360, Xbox One), the latest Lego game set in a galaxy far, far away.
Based on the latest addition to the Star Wars saga, Lego Star Wars: The Force Awakens will let players recreate scenes from last year's blockbuster film and go on "New Adventures" that fill in the gaps between Return of the Jedi and the sequel trilogy. Patrons of all ages know what to expect from the Lego series and this game will likely be able to deliver it.
Also of note this week are a handful of RPGs from Japan, a zombie game that's all about survival, and a popular side-scrolling indie game that's now available for the Wii U.
First up, there's Star Ocean: Integrity and Faithlessness for the PS4. As the fifth entry in Square Enix's series of space-based RPGs, Integrity and Faithlessness is the first new addition to the series in over seven years. Also available for the PS4 (and the Vita) is Grand Kingdom, a tactical RPG from NIS America and Monochrome. Finally on the RPG front, Zero Time Dilemma will close out the trippy Zero Escape franchise on the 3DS and Vita.
Meanwhile, 7 Days to Die is a survival game for the PS4 and Xbox One where players have to craft a shelter and hold out against a zombie horde for as long as they can. It's been available through Steam as an "Early Access" title for a few years now, but the Minecraft-like graphics and post-apocalyptic setting should appeal to a lot of people.
Finally, Terraria, a side-scrolling crafting and exploration title from Re-Logic, is now available for the Wii U.
---
Week of July 11, 2016
The Video Game Librarian Pick of the Week is Rocket League, a multiplayer sports game that mixes soccer with car combat.
Originally released as a downloadable title for the PS4 and PC last Fall, Rocket League eventually made its way to the Xbox One earlier this year. Since then, it's won multiple "Game of the Year" awards and become a smash hit with players who love multiplayer-focused games and stylized futuristic sports.
Now it's available in a retail-exclusive Collector's Edition for the PS4 and Xbox One, and you should add it to your circulating game collection right away. It has an incredibly broad appeal and Rocket League's local multiplayer options also make it a good choice for "Game Night" programs.
---
Week of July 18, 2016
The Video Game Librarian Pick of the Week was Monster Hunter Generations, a monster hunting game for the 3DS from Capcom.
The Monster Hunter franchise got its more than a decade ago, and since then, its built a small, but loyal, following among gamers. The latest entry in the series, Monster Hunter Generations, will add new customization options and a new crop of monstrous bosses.
A few other new releases should also be on your radar this week. That includes Songs of the Deep (PC, PS4, Xbox One), a side-scrolling "MetroidVania" from Insomniac Games and exclusively available at GameStop, that follows a young girl who goes under the sea to rescue her missing father. Also of note is Resident Evil 5, a PS4/Xbox One re-release of the popular co-op title; and Ghostbusters (PC, PS4, Xbox One), a tie-in game partly based on the new movie.
---
Week of July 25, 2016
No Video Game Librarian Pick of the Week.