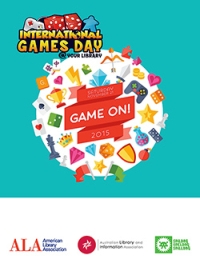 Looking for International Games Day @ Your Library ideas? Jake Hutton, a Children's Library Associate at the Harford County Public Library, recently published a recap of his IGD@YL event from last year on the ALA's International Games Day blog:
After months of preparation the day finally arrived. It was a resounding success. We had a total of 70 participants, with the majority either elementary aged or adults. Most of the participants stayed the entire day, playing pretty much every game we had available.

IGD was an extremely rewarding experience, and I left work already excited for next year.