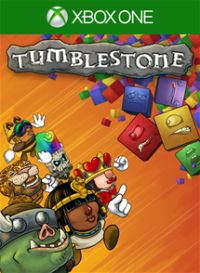 Tumblestone, which I recently reviewed for Warp Zoned, is the best puzzle game to hit consoles and the PC in years. If your patrons are puzzle fans, consider it a must have for your collection.
And with an intense four-player battle mode, Tumblestone is also great fit for open gaming programs:
Developed by the Quantum Astrophysicists Guild, Tumblestone's closest cousin in the puzzle genre is probably Bust-A-Move, a Bubble Bobble spinoff that rose to fame in the 90s. Like Bust-A-Move, Tumblestone players will run back and forth along the bottom of the well while rows of blocks loom above. But instead of connecting three similarly-colored circles, Tumblestone players will attempt to clear the board by shooting three matching blocks in a row.
Tumblestone is now available to download for the PC, Wii U, and Xbox One. If you own an Xbox One, and you're an Xbox Gold subscriber, it's also available as a free download through August 15.
Tumblestone will also be available to download for the PS3, PS4, and Vita later this month, and a disc version will be released for the PS4 and Wii U in August.