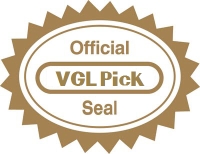 The Video Game Librarian Pick of the Week is a tie between two monster-hunting titles… Bandai Namco's God Eater 2: Rage Burst and Koei Tecmo's Attack On Titan.
Japanese developers love pitting a single player (or a small co-op team) against a giant monster. Ever since the success of Monster Hunter back in the PS2 days, "monster hunting" games have almost become their own genre. And this week, players might be interested in trying out God Eater 2: Rage Burst, a PS4 game where players use "God Arcs" to battle demonic entities known as Aragami. The Aragami like to chow down on lowly humans, much like the Titans at the center of Koei Tecmo's Attack On Titan, which is another adaptation of the popular anime for the PS4 and Xbox One.
Also of note this week is a trio of re-releases. Let's start things off with Assetto Corsa, a racing simulation that was originally released for the PC and is now available for the PS4 and Xbox One. Your patrons might also be interested in slaying more giant monsters in The Witcher 3: Wild Hunt – Game of the Year Edition, which collects all of the game's downloadable expansions in a single package for the PC, PS4, and Xbox One. Finally, Capcom added improved graphics to Resident Evil 4, which is a bona fide classic, and re-released it for the PS4 and Xbox One.
---
All Links in "This Week's New Releases + Game News" are Provided by Warp Zoned.
New Release Round-Up
Warp Zoned's Weekly Warp-Up
Warp Zoned is in Seattle for this weekend's PAX West expo, and there's a lot of news coming out of the Washington State Convention Center. First up, Telltale announced a release date for Batman: The Telltale Series – Episode 2 (September 20) and the official title for the third game in the Walking Dead series (The Walking Dead: A New Frontier). We also heard from Microsoft about the Xbox One launch of Firewatch (which is happening on September 21), and Gearbox is bringing back Duke Nukem in Duke Nukem 3D: 20th Anniversary World Tour. And speaking of blasts from the past, Gun Media unveiled a bloody new trailer for Friday the 13th: The Game.
Elsewhere on Warp Zoned this week, we put Titanfall 2's Technical Test through its paces, and UK Correspondent Andrew Rainnie published a new Kickstart This! column focusing on Ruin of the Reckless.
New Game Announcements
Pre-Launch Updates and Release Date Announcements
Other Game News
New Videos
Rumor Has It