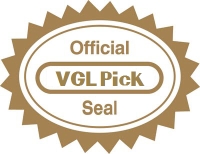 The Video Game Librarian Pick of the Week is expanding this week thanks to the beginning of the "Fall Gaming Season." With more than a dozen new titles this week, there's something to recommend for everybody.
The NFL season kicked off two Sundays ago, so let's start with some new sports games. EA Sports released Madden NFL 17 a month ago, but the publisher was back this week with NHL 17 for the PS4 and Xbox One. If you're more of a basketball fan, 2K Games released NBA 2K17 this week for the PC, PS3, PS4, Xbox 360, and Xbox One. Soccer supporters will also get a new simulation this week with the release of Konami's Pro Evolution Soccer 2017 on the PS3, PS4, Xbox 360, and Xbox One. And the checkered flag goes to NASCAR Heat: Evolution, which was released for the PS4 and Xbox One this week. All four games always score very well with gamers and would make a good addition to any collection.
Far away from Earth's athletic fields is the planet of Far Eden, an interstellar colony that's been overrun by villainous robots in Microsoft's ReCore. Developed by Armature Studio, with additional idea work by Keiji Inafune, ReCore lets players fight back as Joule Adams, a resourceful woman who has her own team of robotic helpers. ReCore is available for the Xbox One.
Finally this week, a trio of re-releases will reintroduce gamers to a few beloved franchises. BioShock: The Collection will bring BioShock, BioShock 2, and BioShock Infinite together in a single package for the PS4 and Xbox One with improved graphics and exclusive commentary by Ken Levine and other developers from Irrational. Meanwhile, Capcom's Dead Rising also makes the leap to the PS4 and Xbox One with improved graphics. And Square Enix and Nintendo collaborated on a brand new localization for the 3DS release of Dragon Quest VII: Fragments of the Forgotten Past, an absolutely massive RPG that was originally released in 2001.
---
All Links in "This Week's New Releases + Game News" are Provided by Warp Zoned.
New Release Round-Up
Warp Zoned's Weekly Warp-Up
The Tokyo Game Show kicked off to some disappointing news this year. In addition to a no-show from Nintendo's NX console (though the consolemaker might have accidentally leaked a March 4, 2017 release date), Sony revealed that The Last Guardian has been hit with another delay. The very highly-anticipated game will now be released for the on December 6… hopefully.
Elsewhere on Warp Zoned this week, we dove into hands-on impressions of both Pit People (a strategy RPG from The Behemoth) and the MetaArcade Adventures Platform (a text adventure creation tool from MetaArcade).
New Game Announcements
Pre-Launch Updates and Release Date Announcements
Other Game News
New Videos