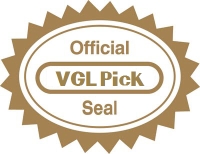 The Video Game Librarian Pick of the Week is
Yoshi's Woolly World, a side-scrolling platformer for the Wii U. Following in the footsteps of 2010's Kirby's Epic Yarn, Yoshi's Woolly World wraps Mario's dinosaur in yarn and sets him loose on the world. Fans of Nintendo-style platformers will thoroughly enjoy it, as will anyone on the lookout for games with unique art styles.
Also available this week is Dragon Quest Heroes (PS4), a "hack and slash" adventure game from Square Enix and Koei Tecmo. Mashing together the former's Dragon Quest series of RPGs with the latter's Dynasty Warriors style of action games, it should be of interest to fans of both franchises.
Other New Retail Releases

3DS

PlayStation 3

PlayStation 4

Vita

Wii U

Xbox 360

Xbox One
New Release Round-Up For Downloadable Games
Feature Articles From Warp Zoned
New Game Announcements
More News
New Videos
The Video Game Librarian's Game News is Provided by Warp Zoned.