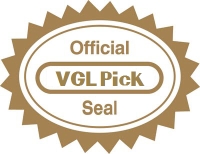 The Video Game Librarian Pick of the Week is Overwatch, Blizzard's "Hero Shooter" for the PC, PS4, and Xbox One. Rather than populate its game with generic character types, Blizzard chose to create dozens of unique "Heroes" for Overwatch, and they gave each one their own personality and fighting style. Overwatch is very similar to the recently-released Battleborn, and I'm sure the two games will be compared and contrasted for many years to come. Fans of online shooters, and the game's well-received art style, will love it.
Also of note this week is Teenage Mutant Ninja Turtles: Mutants in Manhattan, a Platinum Games-developed beat 'em up for the PS3, PS4, Xbox 360, and Xbox One. Mutants in Manhattan isn't a simple movie adaptation, and instead features a comics-inspired art style and an original storyline not tied to any previous incarnation of the Ninja Turtles. Platinum created a similar game based on the Transformers last year, and fans of that 80s franchise went crazy for it. The same is probably true for Mutants in Manhattan, though the reviews aren't as strong.
---
All Links in "This Week's New Releases + Game News" are Provided by Warp Zoned.
New Release Round-Up
Warp Zoned's Weekly Warp-Up
The end of May is near, and Memorial Day is tomorrow, so game publishers mostly took this past week off. But be sure to take a look back at what the Warp Zoned staff was up to the last seven days, including Chris Cobb's detailed look at what he wants from Resident Evil 7 in Warp Zoned Wish List: What We Want From Resident Evil 7.
Also this week, Andrew Rainnie filed another entry in his Kickstart This! series, this time focusing on Islands of Nyne: Battle Royale, an online shooter.
New Game Announcements
Pre-Launch Updates and Release Date Announcements
Other Game News
New Videos
Etcetera