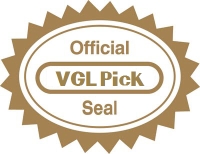 The Video Game Librarian Pick of the Week is a tie between two Nintendo-published titles: Tokyo Mirage Sessions FE and Mario & Sonic at the 2016 Rio Olympic Games.
Tokyo Mirage Sessions FE is an RPG for the Wii U that drops the medieval adventurers from a Fire Emblem-like adventure into a present-day version of Tokyo inspired by the Persona series. Developed by Atlus, it's a unique title that'll to a lot of people, and especially to fans of Japanese RPGs.
Meanwhile, Mario & Sonic at the 2016 Rio Olympic Games makes its Wii U debut a few weeks ahead of the actual Games, and it offers the usual mix of Olympic sports and mascot competition.
Also of note this week is Mighty No. 9 (PS4, Wii U, Xbox One), a new side-scrolling platformer from Keiji Inafune, the creator of Mega Man. Famously funded through Kickstarter a few years ago, Mighty No. 9 has been delayed several times, but retro gaming fans are very curious to see how Inafune's return to the genre turned out.
---
All Links in "This Week's New Releases + Game News" are Provided by Warp Zoned.
New Release Round-Up
Warp Zoned's Weekly Warp-Up
The 2016 E3 Expo closed up shop last week, but many of gaming's biggest names were still eager to talk about their upcoming projects.
Nintendo was the most talkative of all as Eiji Aonuma revealed that players can go straight to the final boss in The Legend of Zelda: Breath of the Wild and Shigeru Miyamoto hinted at a Legend of Zelda spinoff game he wants to make starring Sheik.
Elsewhere on the show floor, NetherRealm's Ed Boon revealed that he still wants to do a fighting game starring "horror icons." And an executive from Marvel confirmed the comics company has "quite a few" unannounced console games in the works. Finally, Platinum Games and Hideki Kamiya would like to make another Bayonetta game. Maybe Nintendo can help.
Also this week, we reviewed Teenage Mutant Ninja Turtles: Mutants in Manhattan, and Andrew Rainnie filed another edition of his Kickstart This! column, this time focusing on Transmission, a sci-fi RPG for the PC, PS4, and Xbox One from developer Paper Unicorn.
New Game Announcements
Pre-Launch Updates and Release Date Announcements
Other Game News
New Videos
Rumor Has It