The video game industry's annual showcase of what's next, the E3 Expo, took place last week in Los Angeles. Be sure to continue reading for the inside scoop on everything that's in the works at all the major (and minor) game producers… organized alphabetically by title.
New Retail Releases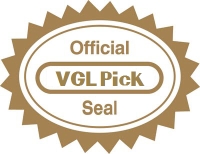 The Video Game Librarian Pick of the Week is Payday 2: Crimewave Edition (PS4, Xbox One), more or less by default. Game publishers typically avoid releasing new titles during the E3 Expo and Overkill's cooperative heist sim was this week's only retail release. That said, its gotten great reviews and is a good choice for players looking for something different from the Call of Duty/Halo crowd.
New Release Round-Up For Downloadable Games
The 2015 E3 Expo: A-Z
B
C
D
E
F
G
H
J
K
L
M
N
P
R
S
T
V
W
X
The Video Game Librarian's Game News is Provided by Warp Zoned.