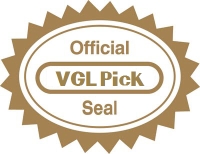 The Video Game Librarian Pick of the Week is, believe it or not, a three-fer.
Mirror's Edge: Catalyst is a first-person action game from DICE, the same team responsible for Star Wars: Battlefront. Available for the PC, PS4, and Xbox One, Mirror's Edge: Catalyst is a prequel/reboot to 2008's Mirror's Edge, which was a cult favorite among gamers for its focus on acrobatic wallrunning over gunplay. Mirror's Edge: Catalyst will appeal to fans of the favorite, as well as anyone looking for something different from the first-person genre.
Kirby: Planet Robobot is the latest side-scrolling platformer in Nintendo's Kirby franchise. This time, the pink puffball has to stop an alien invasion using his copy abilities… but he'll also pilot a giant mech to bring the fight directly to the extraterrestrials. Kirby: Planet Robobot is an all ages title that should appeal to fans of platformer games and Nintendo-published titles.
Finally, Odin Sphere: Leifthrasir (PS4, PS3, Vita) is a high definition remaster of Odin Sphere, a side-scrolling RPG originally released for the PS2 in 2007. Developed by Vanillaware and published by Atlus, Odin Sphere: Leifthrasir draws on Norse mythology for its storyline and features beautiful hand-drawn graphics. RPG fans will definitely enjoy this one.
---
All Links in "This Week's New Releases + Game News" are Provided by Warp Zoned.
New Release Round-Up
Warp Zoned's Weekly Warp-Up
The 2016 E3 Expo will kicked off yesterday with EA's annual Press Conference, where we heard a lot about sequels, Star Wars, and sports. Bethesda staked out a Sunday night spot for their Press Conference, and presentations from Microsoft, Ubisoft, and Sony will be held today. But what about the week that was?
Believe it or not, the biggest announcement from the past week wasn't connected to E3 at all. And that's because while Sony confirmed the PS4 Neo is real… they have no plans to showcase it during the E3 Expo. There's no release date, no price, and no explanation about how it's better, but it exists. And that's enough for now.
Elsewhere on Warp Zoned this week, UK Correspondent Andrew Rainnie shined the Kickstart This! spotlight on Death Story, and I reviewed the simply amazing Superhot.
New Game Announcements
Pre-Launch Updates and Release Date Announcements
Other Game News
New Videos
Rumor Has It