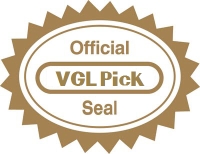 The Video Game Librarian Pick of the Week is Lego Star Wars: The Force Awakens (3DS, PC, PS3, PS4, Vita, Wii U, Xbox 360, Xbox One), the latest Lego game set in a galaxy far, far away.
Based on the latest addition to the Star Wars saga, Lego Star Wars: The Force Awakens will let players recreate scenes from last year's blockbuster film and go on "New Adventures" that fill in the gaps between Return of the Jedi and the sequel trilogy. Patrons of all ages know what to expect from the Lego series and this game will likely be able to deliver it.
Also of note this week are a handful of RPGs from Japan, a zombie game that's all about survival, and a popular side-scrolling indie game that's now available for the Wii U.
First up, there's Star Ocean: Integrity and Faithlessness for the PS4. As the fifth entry in Square Enix's series of space-based RPGs, Integrity and Faithlessness is the first new addition to the series in over seven years. Also available for the PS4 (and the Vita) is Grand Kingdom, a tactical RPG from NIS America and Monochrome. Finally on the RPG front, Zero Time Dilemma will close out the trippy Zero Escape franchise on the 3DS and Vita.
Meanwhile, 7 Days to Die is a survival game for the PS4 and Xbox One where players have to craft a shelter and hold out against a zombie horde for as long as they can. It's been available through Steam as an "Early Access" title for a few years now, but the Minecraft-like graphics and post-apocalyptic setting should appeal to a lot of people.
Finally this week, Terraria, the side-scrolling crafting and exploration title from Re-Logic, is now available for the Wii U.
---
All Links in "This Week's New Releases + Game News" are Provided by Warp Zoned.
New Release Round-Up
Warp Zoned's Weekly Warp-Up
Nintendo has a habit of sticking to tried and true franchise these days, but they took a big leap of faith with Splatoon last year and it paid off handsomely. The game sold millions of copies and made stars out of the Squid Sisters, Callie and Marie. Earlier this week, the consolemaker announced that Splatoon's final Splatfest event will take place on July 22… but it's certainly been quite a ride.
Hopefully we'll get more Splatoon on the NX, but in the meantime, you can read the third part in our history of horror games right here: It's In Your Blood: A History of Horror Games (Part Three).
New Game Announcements
Pre-Launch Updates and Release Date Announcements
Other Game News
New Videos
Etcetera
Rumor Has It