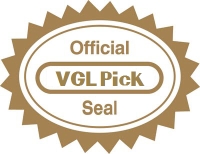 The Video Game Librarian Pick of the Week is Monster Hunter Generations, a monster hunting game for the 3DS from Capcom.
The Monster Hunter franchise got its more than a decade ago, and since then, its built a small, but loyal, following among gamers. The latest entry in the series, Monster Hunter Generations, will add new customization options and a new crop of monstrous bosses.
A few other new releases should also be on your radar this week. That includes Songs of the Deep (PC, PS4, Xbox One), a side-scrolling "MetroidVania" from Insomniac Games and exclusively available at GameStop, that follows a young girl who goes under the sea to rescue her missing father. Also of note is Resident Evil 5, a PS4/Xbox One re-release of the popular co-op title; and Ghostbusters (PC, PS4, Xbox One), a tie-in game partly based on the new movie.
---
All Links in "This Week's New Releases + Game News" are Provided by Warp Zoned.
New Release Round-Up
Warp Zoned's Weekly Warp-Up
Christmas is coming early this year, because earlier this week, Nintendo announced they will release the NES Classic Edition, a microconsole pre-loaded with 30 games this November. Yes, it's just a repackaged Wii with a variety of Virtual Console content on a hard drive, but it is also undeniably awesome.
There in't much else to talk about this week (probably too many people obsessed with Pokemon Go), but believe it or not, employees from Ubisoft actually helped educate the world on the correct way to pronounce Ubisoft. Turns out, everybody's right!
Elsewhere on Warp Zoned, UK Correspondent Andrew Rainnie turned his crowdfunding eye towards Escape From Pleasure Planet in the latest edition Kickstart This! and I reviewed Tumblestone, your new favorite puzzle game.
New Game Announcements
Pre-Launch Updates and Release Date Announcements
Other Game News
New Videos
Etcetera