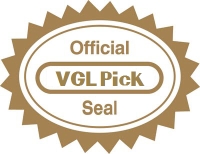 The Video Game Librarian Pick of the Week is Rocket League, a multiplayer sports game that mixes soccer with car combat.
Originally released as a downloadable title for the PS4 and PC last Fall, Rocket League eventually made its way to the Xbox One earlier this year. Since then, it's won multiple "Game of the Year" awards and become a smash hit with players who love multiplayer-focused games and stylized futuristic sports.
Now it's available in a retail-exclusive Collector's Edition for the PS4 and Xbox One, and you should add it to your circulating game collection right away. It has an incredibly broad appeal and Rocket League's local multiplayer options also make it a good choice for "Game Night" programs.
---
All Links in "This Week's New Releases + Game News" are Provided by Warp Zoned.
New Release Round-Up
Warp Zoned's Weekly Warp-Up
We're in that rather blissful post-E3/pre-Gamescom rift where nothing much of note happens in the video game industry. Thankfully, Pokemon Go is here to make the Summer a little more exciting. But remember to steer clear of dead bodies when you're trying to catch 'em all.
Another favorite Summer pastime is the recently-ended Summer Games Done Quick charity stream. But you can still go back and relive all of this year's great runs, and don't forget to watch the event's "3-Legged Race" kickoff by The Late Show With Stephen Colbert.
Finally this week, the Warp Zoned staff got together to discuss What We Played in June (Doom! Mighty No. 9!) and The Games of July (Um…).
New Game Announcements
Pre-Launch Updates and Release Date Announcements
Other Game News
Rumor Has It