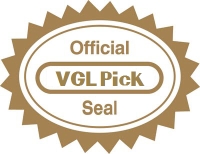 The Video Game Librarian Pick of the Week is Star Fox Zero (Wii U), the latest space opera starring Fox McCloud. Developed and published by Nintendo, Star Fox Zero is the first new entry in the franchise in almost a decade and comes packaged with a tower defense spinoff, Star Fox Guard. Reviewers have noted that Star Fox Zero's controls are difficult to master, but fans of the series (and Nintendo-produced games in general) will definitely want to try it out.
---
All Links in "This Week's New Releases + Game News" are Provided by Warp Zoned.
New Release Round-Up
Weekly Warp-Up
The Warp Zoned staff is in Massachusetts this weekend for the biggest gaming expo in the northeast… PAX East. Our dedicated PAX East 2016 page is the best close to go for all the latest news and views from the show floor, and don't forget to check back in with us next week for the unveiling of this year's PAXpocalypse List, our annual look at the best games from the Boston show.
New Game Announcements
More News
New Videos