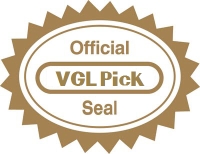 The Video Game Librarian Pick of the Week is a three-way tie between Dark Souls III (PC, PS4, Xbox One), Ratchet & Clank (PS4), and Bravely Second: End Layer (3DS).
Dark Souls III is the third (and presumably, final) game in From Software's gothic fantasy series that reminds me quite a bit of a grim and gritty take on The Legend of Zelda. Fans love its relentless difficulty and wide variety of grotesque monsters, so Dark Souls III is one adult players will definitely want.
Developer Naughty Dog has taken the original Ratchet & Clank and given it the full remake treatment to launch alongside the movie adaptation. Critics weren't too kind to the film, but they love the game (which adds new characters, new bosses, and new weapons to the platformer-styled shenanigans), and it's a perfect match for the "All Ages" segment of your population and adult players who remember playing the PS2 original more than ten years ago.
Finally, Bravely Second: End Layer is a retro-inspired RPG from Square Enix that, again, will appeal to adult patrons who grew up with this style of game. The large game world is even bigger in the sequel and should also keep fans of the franchise busy finding every secret and battling every monster for a very long time.
---
All Links in "This Week's New Releases + Game News" are Provided by Warp Zoned.
New Release Round-Up
Weekly Warp-Up
The Boston Convention and Exhibition Center will open its doors for PAX East 2016 in less than five days (118 hours, to be exact) and the exhibitor list is filling out nicely:
Elsewhere around Warp Zoned this week, we published a review of Ska Studios's Salt and Sanctuary. It's a little like Dark Souls, and if you don't have the time to dive into Dark Souls III, it's the next best thing.
New Game Announcements
More News
New Videos
Rumor Has It
Etcetera