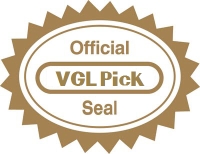 The Video Game Librarian Pick of the Week is Quantum Break, a time-travelling action game for the Xbox One. Developed by Remedy Entertainment (the same time behind the Max Payne series and Alan Wake), Quantum Break is a unique title that mixes the episodic focus of a television series with actual live-action interludes starring Shawn Ashmore, Dominic Monaghan, and Aidan Gillen.
Also of note this week is Dirt Rally, the latest entry in Codemasters's popular offroad rally racing franchise. Available for the PC since December, Dirt Rally's launch on the PS4 and Xbox One adds a number of new features including Classic Mini and Super 1600 series races, 21 Advanced Rally Driving Video Guides, the Pikes Peak course, and more.
---
All Links in "This Week's New Releases + Game News" are Provided by Warp Zoned.
New Release Round-Up
Warp Zoned's Weekly Warp-Up
It was a big week for Bethesda as the publisher celebrated a big win for Fallout 4 at the 2016 BAFTA Games Awards. The post-apocalyptic RPG was named "Best Game" by the British Academy, beating out The Witcher 3, Bloodborne, and Everybody's Gone to the Rapture.
Bethesda is also gearing up to release their next big hit, Doom, and we thought last week's Closed Beta was a huge success. If you weren't able to secure a beta key, you'll get another chance to chaingun a demon on Mars next week with the Open Beta. Bethesda's post-launch DLC plans for Doom were also revealed earlier this week.
Elsewhere around Warp Zoned this week, the staff got together to discuss What We Played In March and our picks for The Games of April. You can also spend today with a review of multiplayer physics puzzler Dreii.
New Game Announcements
More News
New Videos
Rumor Has It