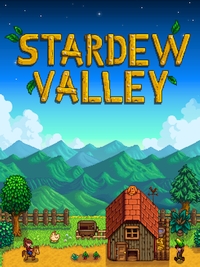 Stardew Valley is a retro-styled farming game that first appeared on the PC in February 2016. Since then, it has also cultivated a large fanbase on the PS4 and Xbox One. The serene simulation is the work of a single developer, Eric Barone, and it was hugely inspired by the Harvest Moon franchise.
Teen Librarian Alanna Graves recently reviewed Stardew Valley for School Library Journal's Teen Librarian Toolbox, and she was quickly entranced by the game's rural rhythms:
There isn't a good or bad way to play Stardew Valley. Players generally try to fix up the Community Center because they can get special items and unlock special areas around town. The second thing players try to do is get married. There are certain villagers whom you can marry if you have enough friendship hearts, and it doesn't matter what gender the player is. I chose to marry Elliot, a sensitive soul who lives on the beach who is trying to finish writing a novel.

[…]

Like any role-playing game, Stardew Valley will have a niche audience because it is a slow paced, relaxing game. If you are a gamer who liked Harvest Moon, I highly recommend Stardew Valley.
Stardew Valley is currently available for the PC, PS4, and Xbox One. The game will be released for the Nintendo Switch sometime this Fall.