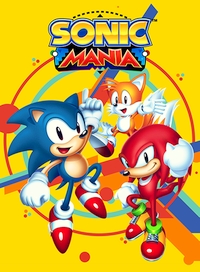 It's hard being a Sonic the Hedgehog fan… especially in the last few years. The "Blue Blur" has always endured his share of ups and downs, but his most recent games might mark a low point for the franchise. Thankfully, Sonic Mania is here to save the day.
Teen Librarian Alanna Graves recently reviewed the game for School Library Journal's Teen Librarian Toolbox, and she thinks Sonic fans will love it, though teens might be put off by its difficulty:
I would recommend buying a copy for circulating collections, but it appears you can't buy a disc version at the moment. If you purchased the "Collector's Edition", you pay $70 for Sonic statue, cartridge cast with a gold ring, collector's box, and the digital code to download the game.

As for teen gaming programs, I recommend asking your teens. If they're really into Sonic, then this might be a good choice especially because the game only costs $20 on online console stores.
Sonic Mania is currently available as a digital download for the PC, PS4, Xbox One, and Nintendo Switch.