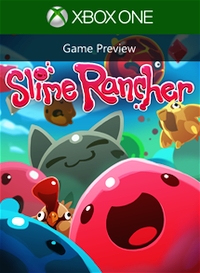 Slime Rancher made its debut on the PC and Xbox One as an Early Access title last year, and developer Monomi Park recently launched the "Full Version" of the game for both platforms.
And that makes it the perfect time for Teen Librarian Alanna Graves to review the game, which is a combination life simulation/shooter, for School Library Journal's Teen Librarian Toolbox:
Your character's name is Beatrix LeBeau, a young adventurer who decides to start her own slime ranch on a faraway planet. The ranch was formerly owned by Hobson Twillgers, who mysteriously disappeared after leaving electronic notes around the planet. Since the planet is only occupied by Beatrix and slime, the storyline is minimal, and players do not have to "beat" the storyline in order to progress in the game.

Similar to Stardew Valley, there isn't necessarily a right or a wrong way to play Slime Rancher. The goal of the game is to make as much money as possible so Beatrix can build up her ranch, as well as try to create unique slime species. Players have to strategize in how they will spend their day, feed their slime, and harvest resources.