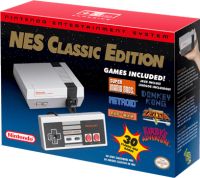 Are you up-to-date on the new video game hardware and add-on peripherals that'll be available this Fall? Microsoft will release an update to their Xbox One console this Summer, while Sony will unleash their highly-anticipated PlayStation VR headset in October. Nintendo is also in the thick of things, and they're technically going back in time to release the NES Classic Edition, a microconsole pre-loaded with 30 favorites from the NES.
Teen Librarian Alanna Graves recently looked into each new piece of hardware for School Library Journal's Teen Librarian Toolbox:
This year is a big year for video games. Pokemon Go is sweeping the nation, and there is new hardware being released for the Big 3 consoles: Xbox, PlayStation, and Nintendo within the next 12 months. Many libraries are still circulating older console games for Xbox 360, PS3, and Wii, and justifiably so since many patrons have yet to make the jump. So, what does all this new hardware mean for libraries?
For libraries that already have a PS4, the PlayStation VR could offer a virtual reality experience at a cheaper price, while Nintendo's NES Classic Edition would be great for "Retro Night" programs.