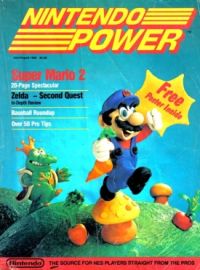 UPDATE: All issues of Nintendo Power have been removed from the Internet Archive.
If you've got patrons interested in the history of video games, you may want to point them towards the Internet Archive and their collection of back issues of Nintendo Power. The magazine got its start in the late 80s, and quickly became a very popular publication for readers who wanted to learn more about Nintendo consoles and handhelds.
As of today, the Internet Archive has digitized more than 100 issues of Nintendo Power, which covers more than half of the magazine's complete 24-year run. So there's still a few holes, but every issue from Nintendo's NES-Super NES-Nintendo 64 heyday is just a click away.