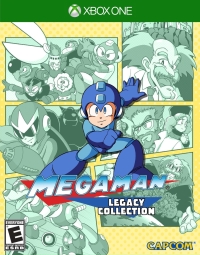 Originally released for the NES from 1987 through 1993, Capcom's Mega Man Legacy Collection (PC, PS4, Xbox One) brought the first six games from the Mega Man franchise together in a single package. Players of a certain age (thirthysomethings, mostly) will thoroughly enjoy the side-scrolling platformers, preserved here with redrawn graphics and a high definition sheen.
I recently reviewed the Mega Man Legacy Collection for Warp Zoned, and while it was difficult to completely suppress my nostalgic love for the Mega Man franchise, I think the games in the compilation hold up well today for patrons looking to revisit them and new fans trying them out for the first time:
It's impossible to look at a compilation like the Mega Man Legacy Collection without wondering how much influence my own memories have on my opinion of it. It's not an unfair question. In my youth, I worshiped the six NES games that made up the "Mega Man Classic" universe (Mega Man, Mega Man 2, Mega Man 3, Mega Man 4, Mega Man 5, and Mega Man 6). I'm honestly not sure if I'll ever be able to think of them objectively. Has the potent mixture of childhood nostalgia and muscle memory forever clouded my judgment? But I also have to wonder: does it matter?
The Mega Man Legacy Collection is currently available as a download-only title for the PC, PS4, and Xbox One. You'll be able to add it to a circulating collection sometime next year, when the compilation will also be released as a retail disc/cartridge for the PS4, Xbox One, and 3DS.