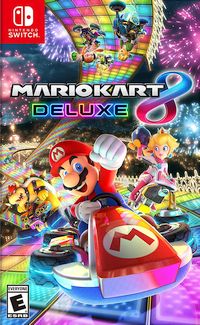 I'm sure you're already very familiar with Mario Kart 8, especially if your library has a publicly-available Wii U console or a circulating collection of Wii U games. But Nintendo has decided to fill out the Switch's launch window with an enhanced and updated version of the game known as Mario Kart 8 Deluxe.
I recently reviewed Mario Kart 8 Deluxe for Warp Zoned, and it's safe to say the game is just as essential the second time around:
Mario Kart 8 Deluxe offers all of the same options as its original Wii U incarnation from 2014. Recognizing that many players who purchase Deluxe also owned it on the Wii U, Nintendo has unlocked all characters and courses from the get-go, as well as the 200cc Class and Mirror Mode. All the DLC content, even the Mercedes Benz Pack, is also included at the start, and Nintendo added more than a dozen new kart parts and five new characters (Splatoon's Inklings, King Boo, Dry Bones, and Bowser Jr.).

But all of this is just a prelude to the return of Battle Mode. Yes, Mario Kart 8 technically had a Battle Mode, but the jousting-style minigame was a huge disappointment, and I'm still baffled as to why Nintendo decided to do that to one of the franchise's signature features. Thankfully, the Battle Mode in Mario Kart 8 Deluxe erases that horrible memory with multiple match types, all of which are exciting in their own way.
Mario Kart 8 Deluxe is an all-caps MUST HAVE for all collections, and it's now available for the Nintendo Switch.