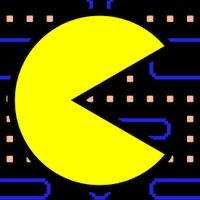 Did you grow up collecting Dots and dodging Ghosts in Pac-Man? If so, you might want to give a "Life-Size Pac-Man" program a try.
Teen Services Underground recently recruited Casey Chwiecko to describe how she built a Pac-Man maze for her library:
Using our biggest program space, I set up a very simple grid similar to the tradition Pac-Man game without allowing them to out the sides and pop back up on the other side. It was surprisingly easy after I'd sketched it out to eyeball it on the floor of our room. I used paper plates as the objects they had to pick up so it was easy to a) reset and b) grid out the section.
The program sounds like it was a huge success, and hopefully "Life-Size Pac-Man" will be coming soon to a library near you!