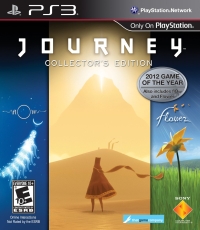 Video games fans have been waiting patiently for the next project from ThatGameCompany for several years now. But while we continue to wait, the developer has repackaged its slightly abstract catalog (Flow, Flower, and Journey) in a PS3 and PS4 compilation known as Journey: Collector's Edition.
Journey: Collector's Edition was released in 2012, but Teen Librarian Alanna Graves recently reviewed it for School Library Journal's Teen Librarian Toolbox. And she found it as magical as many other video game fans have:
Journey has all the right elements to make it a staple in the gaming industry: breath taking graphics, an excellent soundtrack, an intimate feeling when playing with other players, and a strong emotional response. I highly recommend this title for circulating library collections, as well as teachers/librarians trying to use it for programs!
The PS3 version of Journey: Collector's Edition was released on a Blu-ray disc, but the PS4 version of the game is only available as a download through the PlayStation Store.