This article is from the first edition of The Video Game Librarian website I published between 2008 and 2010. It was originally written on November 6, 2009.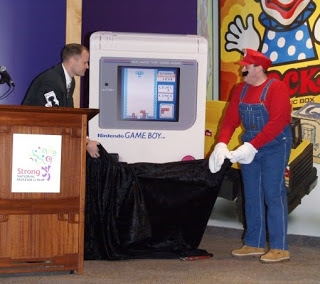 The Game Boy has been a fixture of pants pockets and backpacks for 20 years now, and thanks to its ubiquity, the portable video game system has been recognized by The Strong Museum of Play with induction into the National Toy Hall of Fame. Nintendo's handheld was inducted alongside "the ball" and the Big Wheel, and it beat out other nominees such as Cabbage Patch Kids, Game of Life, Hot Wheels, the paper airplane, playing cards, Rubik's Cube, sidewalk chalk, toy tea set, and The Transformers.
Inducted by Associate Curator Eric Wheeler, who is a major supporter of the museum's National Center for the History of Electronic Games, the unveiling also got a hand from Nintendo's mascot, Mario. The Hall of Fame cited the Game Boy's innovative features and blockbuster gaming library as the reasons for its admission this year:
Admitted into the hall because of its role as a major industry innovator, Nintendo Game Boy transformed the electronic-games market by popularizing handheld gaming. No video-game platform did more to put gamers "on the go" than this invention. And go they did—bringing their gaming experience to school, to summer camp, and to the back seat of the family automobile. Over the past two decades, Game Boy has become synonymous with hand-held gaming fun. Its portability and efficient design, ability to allow simultaneous multiplayer gaming, and scores of intriguing games (like Tetris and Super Mario Land, featuring Nintendos' already-iconic character Mario) make it a true innovator.
The Game Boy is not the first video game system to be enshrined the National Toy Hall of Fame. That honor goes to the Atari 2600, which was inducted two years ago.