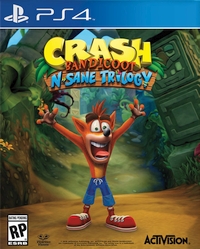 The Crash Bandicoot franchise kicked off a new wave of platformers in the late 90s and helped put Naughty Dog on the map. But after Vivendi Universal took over the franchise in 2000, a string of middling-to-poor entries forced the franchise to go on hiatus after the release of 2008's Crash: Mind Over Mutant.
But that was then, and this is now. Today, Crash Bandicoot has returned thanks to the Crash Bandicoot N. Sane Trilogy, a remastered compilation of the first three games in the series. Even though the original games are over 20 years old, Teen Librarian Alanna Graves highly recommends the N. Sane Trilogy in a review on School Library Journal's Teen Librarian Toolbox:
Crash Bandicoot is a 3D platform jumper where on some levels Crash has to run left to right and some are bottom to top. While players can simply beat the levels, each level has bonus items like gems for completing unique challenges like destroying all of the boxes in one life or a relic for beating the level under a time limit. I have forgotten how insanely difficult this game is, especially the first one! My favorite game in the trilogy is Crash Bandicoot Warped (the third one), because it adds more moves like double jump, belly flops, and BAZOOKAS.

[…]

This game is great for kids around 8+, families, and teens. I also think this game is great for grown ups like me who played the original in the 90s!
The Crash Bandicoot N. Sane Trilogy is currently available only for the PlayStation 4.