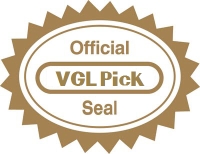 The Video Game Librarian Pick of the Week includes a trio of re-releases and a beautiful puzzle platformer.
Leading things off, Capcom released Ultra Street Fighter II: The Final Challengers for the Switch on Friday, May 26. The publisher is hoping that this re-release will introduce the arcade classic to an entirely new generation, but it also includes a brand new first-person minigame, new color variations for all characters, and two new fighters (Evil Ryu and Violent Ken).
Another re-release that made its way to the Switch this week was courtesy of NIS America. The import house launched Disgaea 5 Complete on Nintendo's console, which includes the original strategy RPG and all of its downloadable content.
THQ Nordic also brought the original Darksiders to the Wii U as Darksiders: Warmastered Edition. This new version of the action/adventure game include enhanced visuals and redone graphical effects, and was previously released for the PS4 and Xbox One.
But if you're looking for new and never-before-seen games this week, Tequila Works brought their puzzle platformer Rime to the PS4 and Xbox One. Featuring a unique and moody graphical style, the exploration game should offer an interesting change of pace.
More "New Retail Releases" can be found at Warp Zoned, and this week's "News Headlines" are available after the break. Continue reading →