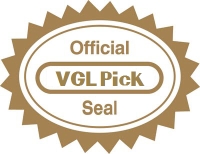 The Video Game Librarian Pick of the Week is F1 2016, the latest open wheel racing simulation from Codemasters. Available now for the PC, PS4, and Xbox One, F1 2016 will feature an enhanced Career Mode, as well as the complete 2016 FIA Formula One World Championship schedule with 21 tracks and 22 drivers.
Also of note this week is a pair of 3DS titles from Nintendo. Metroid Prime: Federation Force is a co-op-focused spinoff from the main Metroid series that doesn't star intergalactic bounty hunter Samus Aran. Instead, players will join up with a squad of Galactic Federation Marines as they do battle with Metroids and Space Pirates on a distant planet.
Meanwhile, Style Savvy: Fashion Forward is the third game in Nintendo's fashion franchise, and it'll give budding business owners the chance to stock thousands of items in their boutique or "design clothes fit for a fashionista, style some wicked hair, master the art of make-up, and even become the next top model."
---
All Links in "This Week's New Releases + Game News" are Provided by Warp Zoned.
New Release Round-Up