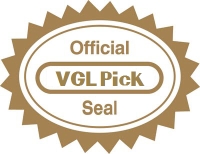 The Video Game Librarian Pick of the Week is Monster Hunter Generations, a monster hunting game for the 3DS from Capcom.
The Monster Hunter franchise got its more than a decade ago, and since then, its built a small, but loyal, following among gamers. The latest entry in the series, Monster Hunter Generations, will add new customization options and a new crop of monstrous bosses.
A few other new releases should also be on your radar this week. That includes Songs of the Deep (PC, PS4, Xbox One), a side-scrolling "MetroidVania" from Insomniac Games and exclusively available at GameStop, that follows a young girl who goes under the sea to rescue her missing father. Also of note is Resident Evil 5, a PS4/Xbox One re-release of the popular co-op title; and Ghostbusters (PC, PS4, Xbox One), a tie-in game partly based on the new movie.
---
All Links in "This Week's New Releases + Game News" are Provided by Warp Zoned.
New Release Round-Up