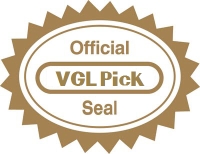 The Video Game Librarian Pick of the Week is a tie between Madden NFL 17 and Deus Ex: Mankind Divided.
The release of Madden NFL 17 on the PS4, Xbox One, PS3, and Xbox 360 means that it's time for FOOTBALL, and for this year's entry in their annual sports franchise, EA Sports focused on improving Madden's famed Franchise Mode. That should make the hardcore statheads very happy, but Madden appeals to almost everybody, so most patrons will be happy to see it on the shelves.
Many gamers are excited for Deus Ex: Mankind Divided as well, though it's a very different kind of game… a science fiction story that has many parallels to our world including civil rights, terrorism, and government surveillance. Its heady themes make it one of the smarter games out there, and one that many PC, PS4, and Xbox One owners are very interested in.
Also of note this week is The King of Fighters XIV, a one-on-one fighter for the PS4. Players familiar with the long-running King of Fighters franchise will want to check it out, as will fans of one-on-one fighting games like Street Fighter V and Mortal Kombat X.
---
All Links in "This Week's New Releases + Game News" are Provided by Warp Zoned.
New Release Round-Up