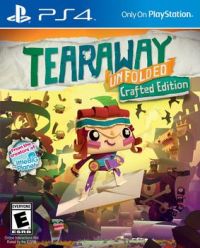 Released last year for the PS4, Tearaway Unfolded is a 3D platformer from the creators of LittleBigPlanet that takes place within a papercraft world.
Regina Townsend recently reviewed Tearaway Unfolded for Teen Services Underground, and she was very impressed by the game's epic story, along with the unique way players interact with the touchpad and microphone on the PS4's controller:
Tearaway is an epic story, told in three parts, about a message/messenger named Atoi (or Iota if you choose to have a male character). The world of Tearaway is made entirely of paper, and when a hole appears in the sky, the inhabitants are able to see out into our world (literally, if you have the PlayStation Camera). They decide that they must get a message to The You, and send Atoi, an adorable envelope to deliver it. Guided by two playful and at times mischievous characters, The Green Man and The Fortune Teller, Atoi must encounter various obstacles that threaten the colorful world. As The You, you're able to use every part of the controller to help her along the way. Rubbing a finger along the touchpad can send wind into the world, or flashing the controller's light can help brighten dark places and fight the Scraps, dangerous pieces of newspaper that want to destroy the world.
Tearaway Unfolded also includes unlockable patterns to teach players how to create many of the game's papercraft animals. So it would be easy to use it to plan a combo "Play the Game/Fold the Papercraft" program.